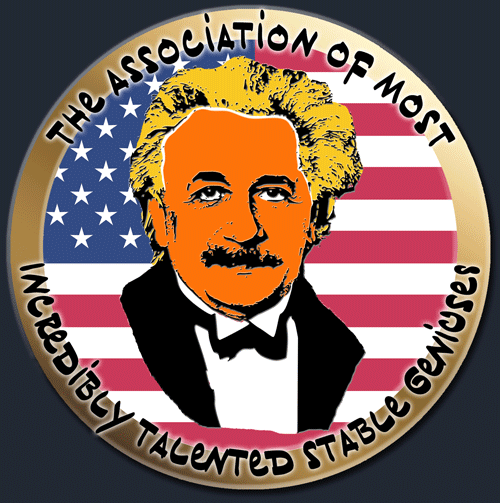 Back in the days when a certain president was still a figure of fun who had merely suggested people inject themselves with disinfectant and had yet to deploy paramilitary units to teargas peaceful protestors, our writing circle's task was to come up with ideas for a writing competition. I began seriously, but Trump's 'disinfectant' press conference was all I could think about, and I ended up with this piece of satire.
The Association of Most Incredibly Talented Stable Geniuses
Speculative Fiction Award
2020
The Association invites entries of creative speculative prose that surprise, shock or break with existing norms and standards. Authors who push boundaries and engage in out-of-the-box-thinking are particularly encouraged to enter. Wordiness, malapropisms and neologisms are welcomed. Entries will not be judged negatively for unconventional spellings or usage of grammar.
This year, all entries must include the following words:
"Listen, I'm not a doctor, but…"
Rules
Eligibility
Entrants must be at least 8 years old on midnight of the closing date.
The competition is open to all real US citizens (not naturalized). And Russians. Employees, members of the Association, and their relatives will be given especial consideration. No incompetents. No haters. Those with relevant qualifications and experience need not enter, and if they do so, they will be disqualified with extreme prejudice.
Entries must be in English.
Entries must be totally the work of the entrant and must never have been published, self-published, published online, broadcast or whatever. You can enter as many stories as you like, what do I care?
Copyright
Worldwide copyright of each entry remains with the author, but the Association will have the unrestricted right to publish and perform all entries and derivitives thereof for the duration, or for as long as the President sees fit.
Judging
The President of the Association is the one and only judge. He knows words. He knows all the words, especially the really great ones. Therefore, his decision is absolutely final, finito. And to be frank, anyone who who has a problem with that is a loser and ought to be locked up.
Prizes
First price is an internship with the President. There are no prizes for coming in second.
Prizewinners will be notified in due course.
Fees
Entry fee: $100
Judging fee: $150
Manuscript format
All entries must be handwritten in Sharpie pen.
Word limit: brevity is preferred. But if you really want, you can write as much as you like. I don't care. I can't guarantee you that I'll read it, but it's entirely up to you. I mean, I don't know. As long as it's entertaining, that's all I really care about.
In addition to their submitted piece, entrants must include a 600-word supporting statement explaining how they are personally known to the President of the Association; how much they appreciate his wise leadership, how wonderful and really great it would be if they won, and how much value, in six figures, they place on winning this award.
Submissions must contain the following:
Fee ($250)
Manuscript
Supporting statement
Receipts of the applicant's most recent visit to one of the Association's hotels or golf courses
Contact details
Closing date
November 3, 2020
S.G. Parker
28th April, 2020